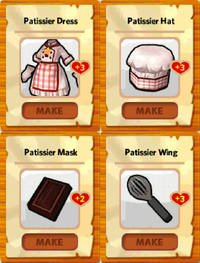 The Patissier Costume is the 3rd available magic costume at level 15 along with the Undine and the Salamander costume.
Has 75% chance of success with Sewing Tool.
Patissier Costume Effects
Character movement speed will increase by 150%.
You get 2 hearts from drinking one milk while wearing the costume.
Collections to Complete
Patissier Dress: Cream Cake Tree, Cherry Mousse Tree, Jelly Tree, Cookie Tree, Fairy Tree
Patissier Hat: Cream Cake Tree, Cookie Tree, Chocolate Cake Tree, Icecream Tree, Vase Tree
Patissier Mask: Cream Cake Tree, Spiral Tree, Jelly Tree, Chocolate Cake Tree, Choco Fudge Tree
Patissier Wing: Cream Cake Tree, Cherry Mousse Tree, Sweet Tree, Butterfly Tree, Jewelry Tree
Trivia